Sugar & Lime
Building an online ordering platform to serve the UK's hospitality sector
Sugar & Lime imports and distributes a range of over 5,000 high-quality products, helping to keep the UK's hotels, bars and restaurants fully stocked and supplied.
The Objective
Sugar & Lime had historically dealt with all customer orders through traditional forms of communication such as phone calls and emails. As a large and growing business, this limitation was causing operational inefficiencies. The client approached us to design and build an online ordering platform that would market the entire product range and allow customers to submit orders online. This new system would dramatically decrease the admin load on the internal sales team and introduce the company to clients in new geographical markets. We started the process of conceptualising, prototyping and designing a digital solution.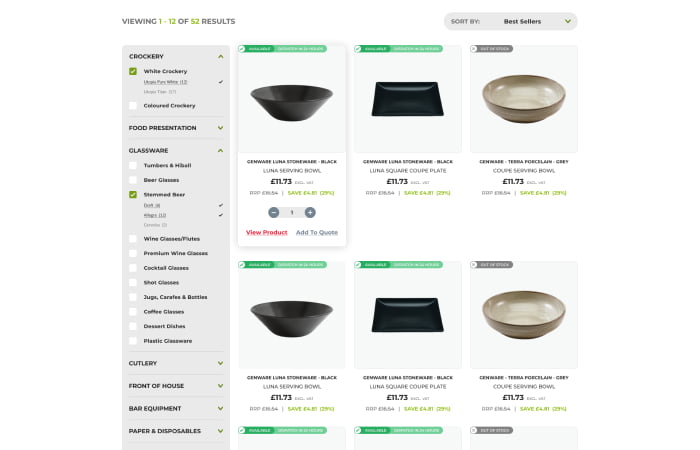 Web & UX/UI
New Product Ordering Platform
Using our deep knowledge of e-commerce conventions, we presented the client's extensive product range within an easy to use online experience. Our design team conducted market research to identify the latest UX design trends for online ordering. We devised an advanced basket system to allow Sugar & Lime's customers to assemble large and complex orders with ease, without the need to email or call a sales team. To establish the client as a forward-thinking brand, we adopted a modern and abstract design language, resulting in a new website with a fresh look and feel.
Digital Consultancy
Importing 5,000+ Products
Importing and standardising the data of over 5,000 products is by no means a simple task. Sugar & Lime had been provided with product import spreadsheets by its major suppliers, and they required assistance with populating the new sales platform. Our team organised and standardised the product data, enabling us to quickly and easily populate the e-commerce platform. We continue to work with the client's sales team to keep the website up-to-date with new product lines.
We reinvented the way customers ordered from Sugar & Lime
Let's start your next project together!
Contact us today to discuss your project and a member of our team will get back to you within 1 business day. We look forward to hearing from you!
Enquire Now